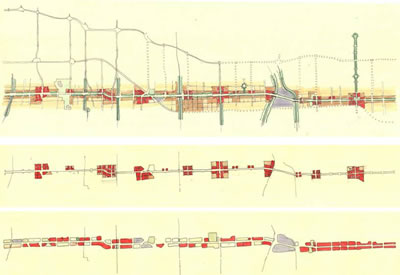 Slides from ROBERT LANE's presentation on March 2nd, 2006
PUBLIC FORUMS
Along the corridors: Maximizing the Assets
THURSDAY, MARCH 2nd, 2006
7:00 p.m. – 9:00 p.m.
SFU Surrey Centre Campus

SPEAKER:
ROBERT LANE, Senior Urban Designer, Regional Plan Association, Tri State NY Metropolitan Region

BIO / TALK SUMMARY:
Rob Lane is the senior urban designer for the Regional Plan Association for the Tri State NY Metropolitan Region, a region of over 20 million people. In this capacity he has worked with communities of all scales, from downtown Manhattan to a village of 1,000, to provide practical strategies for sustainable new growth. Common to most of these exercises has been the urban corridor, corridors that range in nature but are more and more commonly high traffic first, second, and third ring suburban commercial corridors.
His experiences in Arizona, Florida, New Jersey, New York, and Connecticut provide many examples that are relevant to our fast changing region, and the literally hundreds of kilometres of strategically important suburban arterials. Could these arterials, while presently treated as unfortunate necessities for providing commercial services and moving cars around, become the new lifelines for attractive sustainable communities?